Flipboard is a great way to get your daily news and social-network updates in the same place. The iOS app features an easy to use aggregated magazine-format that keeps you updated on a plethora of topics. The app also offers the ability to easily share news stories, videos and images, and it allows users to create their own collections of content to read later. Here's how to get the most out of Flipboard on your iOS device: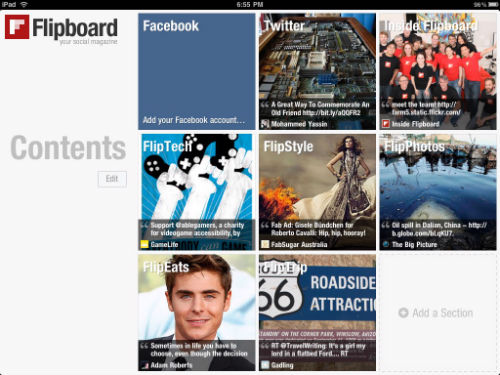 Create your own "Magazine"
Flipboard version 2.0 added the ability to create "Magazines". Magazines are just a folder where you can store your favorite articles under your own created categories. To create a "Magazine," just tap the + button at the bottom of any article and then tap the blank "Create Magazine" box. You can then add your own Magazine title, description, category and choose to share it with your friends or to keep it private. This is a great tool for saving articles that you want to read later.
Add your social media
Flipboard users can add a variety of "boards" to their profile based on topics like "Business," "Tech & Science" and so on. Users can then flip through these boards which collect news stories from various online sources based on the categories chosen.
You can also create boards from your own social network feeds. All you have to do is tap the three red lines at the top of your Flipboard profile and select "Accounts". From here you can sign into your Twitter, Facebook, Google+, LinkedIn, Instagram, Tmblr and YouTube account to create your own personalized social media feed directly on Flipboard.
Share content with friends
Flipboard Version 2.2.4 made it easier to share your favorite content with your friends and family. To share an article, photo or video you discover on Flipboard follow these instructions:
1. Tap the Flipboard share button (pictured below)
2. Tap the Flipboard, iMessage, Facebook, Twitter or Google+ icon
3. Flipboard will then ask you permission to access your Contacts. Select "OK" and start typing your friends and fimly memebr's names or emails. Flipboard will autofill the emails listed in your Contacts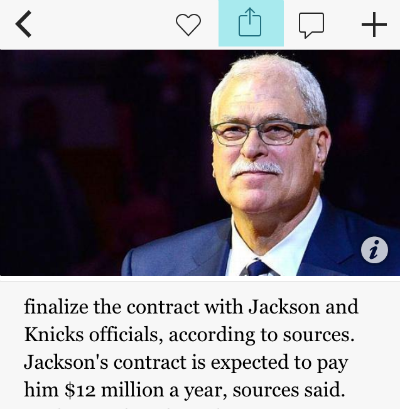 Mute authors you don't like
You can weed out news outlets or "authors" you don't like by "muting" them. Here's how:
1. Tap the name or icon of the author on the bottom of any article
2. Tap the first icon that looks like a little man
3. Tap "Mute" and confirm you want to mute that author
Flipboard is free for both iOS and Android users. The iOS app is compatible with all devices running iOS 5.0 or later.