Electronic Arts has released FIFA 14 as a free download for iPhone and iPad devices. The officially licensed game features 16,000 plus players, 33 leagues, 600 teams and 34 real stadiums. In addition, players can enjoy commentaries in English, German, French, Spanish and Italian.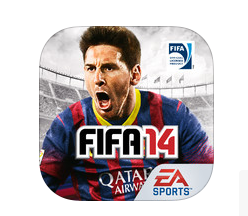 "REAL PLAYERS. REAL TEAMS. REAL LEAGUES. Welcome to the most authentic football game on the App Store. Feel the excitement of every pass, shot, and tackle with new touch controls. Plus, live every moment of real-world football mastery with EA SPORTS Football Club Match Day."
The Match Day feature reflects real world changes to a player's favorite team in the actual game, keeping the content up-to-date. Competing in tournaments allows a player to earn virtual coins they can use to upgrade their roster or, if they prefer, they can use actual cash to achieve the same goal faster. At a price of $6.49, a Premium Pack can be purchased which unlocks three new modes: Manager, Tournament and Kick Off. The touch and swipe game also features online leaderboards, the ability to share instant replays, and multiplayer challenges.
Originally given a soft launch a week ago in New Zealand, stateside soccer fans can now join in on all the crazy "futbol" fun. FIFA 14 is available in the App Store for devices with iOS 5 or later.