Apple plans to bring FaceTime video chat to more iOS devices in the near future, as BGR has discovered in the iOS 4.1 beta firmware. Assuming the next-generation iPad includes a front-facing camera, video chat over Wi-Fi would be possible using the built-in software. This would greatly expand communications options between Apple mobile devices.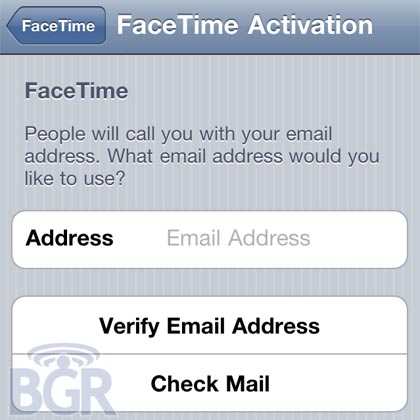 In addition, FaceTime has been opened up to developers for use on any platform. Potentially those with the iPhone 4 could use FaceTime to communicate to anyone with an enabled device. The iPad and iPod touch could join the fray as soon as cameras are added. BGR found that Apple is working on a system to allow calls using email addresses instead of phone numbers.
A breakdown of iPad hardware revealed space in the frame for a front-facing camera, and early leaked prototype photos showed what looked like a camera opening in a case around the device. Apple shipped the first generation iPad without any camera, leaving people wondering when it might be added.
There has been some debate over whether or not a rear-facing camera should have been installed on the iPad. Some smart phone owners are using rear-facing cameras with services such as Fring to make video calls over Wi-Fi and 3G. The iPhone 4 features a VGA front-facing camera specifically tailored to self-portraits and FaceTime calling.
If an email address is the only thing needed to connect to a video chat session, Apple could even allow FaceTime calling on its computers. iMacs have built-in front facing iSight cameras that can be used now for iChat video calling. FaceTime could catch on or it might flop, as it's certainly not the first time a company has tried to push the technology.
Should FaceTime catch on with a wider swath of the public, we can be sure that add-on webcams for the first generation iPad will become more popular and fall in price.