Google has made a lot of big announcements at its Google I/O 2012 keynote currently being held in San Francisco, California. Some of the highlights include: The new Nexus 7 tablet with Android 4.1 (Jelly Bean), a cool looking media streaming sphere called the Nexus Q, and the pricey Project Glass ($1,500). Google also announced that Google+ is getting a tablet makeover.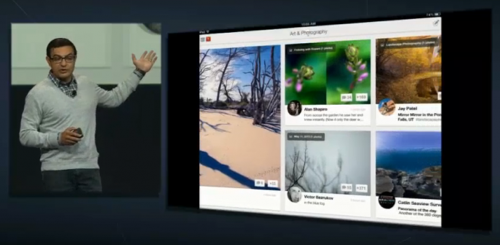 The app has been optimized for Android tablets and the iPad. Google+ now features a new navigation system, Hangout video chats, and easily-tappable actions like +1 and comment. The app will also take full advantage of the new iPad's Retina display. Android users get the update today, while iPad users will have to wait a little longer.
The Google Nexus 7 is a 7-inch tablet with a 1.2-megapixel front camera, NFC capabilities and Android 4.1. Google's new OS features a new Siri-like voice assistant and an improved search called Google Now. The new Google search uses browser history, and other data it collects over time to make suggestions based on your daily routine. Jelly Bean also features improved scrolling, page transitions and a smarter keyboard.
The Nexus 7 is available in two models: An 8GB version for $199 and a 16GB version for $249. Google is currently accepting pre-orders in Australia, Canada, the UK and the US.
It will be interesting to see if Google's new tablet changes the tablet market. However, it will probably do more damage to the Amazon Kindle Fire than the iPad.