Happy Owl Studio announced their highly-anticipated line of iPad cases would be available for pre-order starting today. Three different models will come in two different colors each at special introductory prices for a limited time. Pictured below is the Wallet in brown.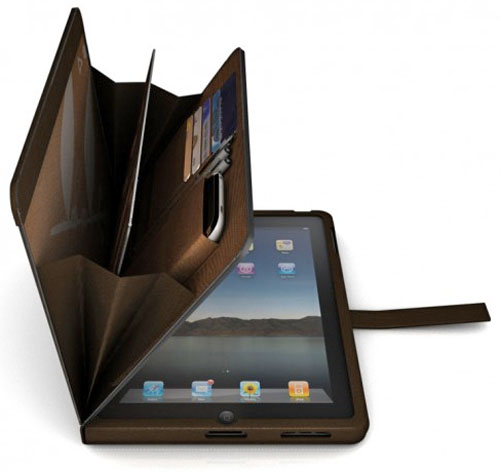 Happy Owl Studio is based in California and has designed their cases to hold anything and everything one might need throughout the day in addition to the iPad. The iPad itself is securely held in the protective case with cutouts for dock connector and speaker access.
Three models are available for pre-order. Click the names for more photos and reviews at our iPad device and accessory guide.
Comes in blue or red. Introductory pre-order price $64.99. The Clutch is geared towards the "modern woman" and includes plenty of space for everything you need on-the-go. There are pockets for cash and change, credit cards, business cards, pens, a stylus, a passport and a mobile phone. There's additional room in the larger pocket for your lipgloss, MiFi, keys and more.
Comes in brown or black. Introductory pre-order price $64.99. The Wallet is the same design as the Clutch, except sans the decorative pleats on the outside cover. Plenty of space for everything you will need all day, including your securely protected iPad.
Also comes in brown or black. Introductory pre-order price $49.99. The Wallet Lite is sleeker than the Wallet, as it does not have all of the pockets and storage space. Simply a stylish case to hold the iPad that also stands up for watching movies or slideshows and can be propped up on the rigid cover to make typing on a table easier.
Happy Owl Studio will begin shipping the cases in June. $15 deposits for pre-orders are refundable at any time. Happy Owl Studio will determine how many units to produce during its initial run based on how many pre-orders are submitted.
For more information or to pre-order see the Happy Owl Studio website.