Looking for an improvement over the touch screen keyboard on your iPad 2 screen, but without the added bulk of carrying around a real keyboard? Hatch & Co. have introduced the SKINNY, an incredibly thin and light solution that protects the iPad 2 while adding an external wireless keyboard. Although the keys are somewhere in between a real keyboard and the virtual iPad display, the keypad clocks in at only 0.07 inches thick.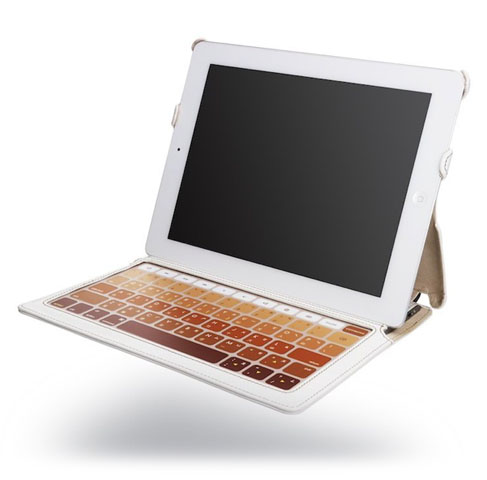 Not only this, but thanks to its design the SKINNY keyboard is entirely dust and waterproof. Weighing in at 10.4 ounces, this case is on the lighter side even though it provides textured keys to increase productivity when needed. SKINNY comes in stylish white with brown keys or black and gray designs.
Hatch & Co. designed the SKINNY in faux leather to provide for those times when you need a keyboard without adding extra bulk. Bluetooth makes it possible to use the entire iPad 2 screen to see what you're doing, without filling up the screen with a virtual keyboard.
SKINNY acts much like a Smart Cover and wakes or sleeps your iPad 2, and built-in LED lights let you know when the battery is low or the keyboard is connected. When it comes to battery power, the keyboard can used for 68 hours and charges fully in only two hours. Standby time is 45 days. The SKINNY keyboard can be paired with any iPad or iPhone supporting Bluetooth 2.0.
The keyboard itself includes multimedia hot keys to navigate to the home page and control other iPad features including music and volume. SKINNY is the lightest and thinnest product of its kind currently available for the iPad 2. Amazon is already selling the white SKINNY and black SKINNY iPad 2 case and wireless slim keyboard for $89.99.