Apple today announced at its Spring Forward event in San Francisco, California that HBO's new subscription service will launch exclusively on Apple TV and the App Store in April. The streaming service called HBO Now will be available for $14.99 a month with no cable subscription required. Subscribers will be able to access past, present and future HBO programming through their Apple TV digital media player or via the HBO app on their iPad or iPhone. The first month of HBO Now will be free to customers who sign up at launch.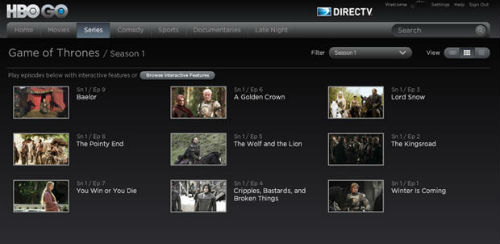 HBO CEO Richard Pepler made the announcement alongside Apple CEO Tim Cook at the Yerba Buena Center for the Performing Arts in San Francisco on Monday. Pepler also played the trailer for the fifth season of Game of Thrones at the media event.
It is unknown if and when HBO Now will be available through other platforms such as Roku.
UPDATE: HBO Now subscribers will also be able to watch content at HBONOW.com, according to the official press release.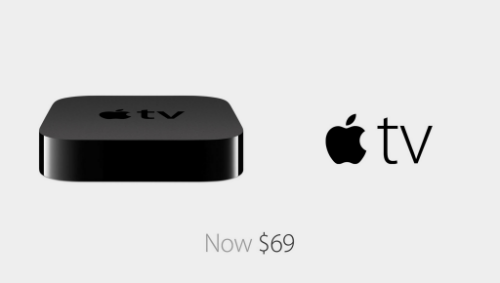 Apple has reduced the price of the Apple TV box-top from $99 to $69 to make it "accessible to more people," according to Cook. The $69 price tag still makes Apple TV more costly than other streaming devices such Google's Chromecast, $32, and Amazon's Fire TV stick, $39, but Apple hopes the new price plus the addition of HBO Now will make it more appealing to new customers.
HBO Now Press Release
APPLE TO OFFER HBO SUBSCRIPTION FOR FIRST TIME THROUGH HBO NOW

SAN FRANCISCO, March 9, 2015 – Home Box Office announced today the name of its standalone premium streaming service – HBO NOW – and that the service will launch this April, bringing the highly anticipated new product to audiences in time for the fifth season of Game of Thrones. HBO and Apple also announced that for the first time an HBO subscription will be made available directly to Apple customers through HBO NOW.

HBO NOW provides instant access to HBO's acclaimed programming. Watch every episode of every season of the bestseries programming, more of the biggest and latest Hollywood hit movies, original HBO Films, groundbreaking documentaries, sports and comedy and music specials. To subscribe to the streaming service HBO NOW, consumers only need the internet.

Apple will give viewers the ability to enjoy HBO programming via HBO NOW. Upon launch, customers can subscribe using the HBO NOW app on their iPhone, iPad or iPod touch, or directly on Apple TV for instant access. Users can purchase HBO NOW directly in-app for $14.99 a month. Upon registering, subscribers will also be able to watch at HBONOW.com. HBO will offer a 30 day introductory free trial period to new HBO NOW customers who sign up through Apple in April.

HBO continues to be in discussions with its existing network of distributors and new digital partners to offer HBO NOW. At launch, HBO NOW will be available on iOS devices and on PCs.

"HBO NOW is the next phase of innovation at HBO," said Richard Plepler, chairman and CEO, HBO. "With this new partnership, a natural evolution for the network, we have access to millions of Apple customers who are used to getting their favorite apps immediately. Now, they can do the same with an HBO subscription."

"HBO NOW offers a new generation of HBO fans many of the best TV programs in the world without a cable or satellite subscription," said Eddy Cue, Apple's senior vice president of Internet Software and Services. "Now, with the same simplicity as buying an app, customers can subscribe to HBO NOW and instantly start viewing their favorite HBO programs as they air – this is huge."

Similar to HBO GO, HBO NOW will offer more than 2,000 titles online. This includes current critically acclaimed series like Game of Thrones®, True Detective®, Silicon Valley®, Girls®, Veep® and The Leftovers®, as well as classics like The Sopranos®, Sex and the City®, True Blood®, The Wire® and Deadwood®.

Highly-anticipated upcoming original programs like Westworld, the drama series starring Anthony Hopkins, Ed Harris and Evan Rachel Wood; The Brink, the dark comedy series starring Jack Black and Tim Robbins; the new season of the Emmy®-winning True Detective with Vince Vaughn, Colin Farrell and Rachel McAdams; and HBO Films' Bessie, starring Queen Latifah, will become available on HBO NOW as they air on HBO.

In addition, HBO NOW will showcase Last Week Tonight with John Oliver, named "best of 2014" on many critics' lists;VICE, the Emmy®-winning, cutting-edge news magazine series hosted by Shane Smith; HBO Sports documentaries, series and World Championship Boxing events; and groundbreaking documentary programming like Going Clear: Scientology and the Prison of Belief, The Jinx: The Life and Deaths of Robert Durst and the Oscar®-winning Citizenfour.