Thanks to iOS 8 Apple has added several useful features to its Mail app making it once again relevant to iOS devices. For example, users can now skip the VIP list introduced in iOS 6 and receive a notification when any email is answered by using the new Notify Me flag. All you have to do is tap the flag icon when viewing any message in the Mail and you will receive a notification when anyone replies to that email.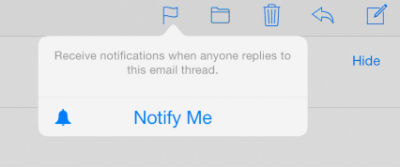 Another useful feature added to the Mail app in iOS 8 allows users to quickly update their Contacts or Calendar with new information and events contained in an email. For example, if a person updates their phone number in the signature of an email, the Mail app will give you the option to add that new information to the person's contact card in your Contacts app. The same goes for emails that contain dates and times for upcoming events. Just tap the "Add to Contacts" or "Add Events" notification to add the new information to your Contacts and Calendar apps.
The Mail app also includes new options when you swipe on an individual email. Just swipe left to unveil the "More," "Flag" or "Trash" buttons and swipe right to mark an email as Unread or Read.
Last but not least, you can now dock a compose email window at the bottom of your display to access the rest of your inbox. Just swipe down from the top of the screen to collapse the window at the bottom of your display. You can resume writing by simply tapping the email you want to re-open.