There are a variety of reasons one might want to hide or restrict access to apps on their iPad or iPhone. For example, you may want to limit the amount of time your child surfs the web on their device, or you may want stop someone from accessing the camera on your iPad. You can do this by removing some select stock apps from your Home screen. Here's how: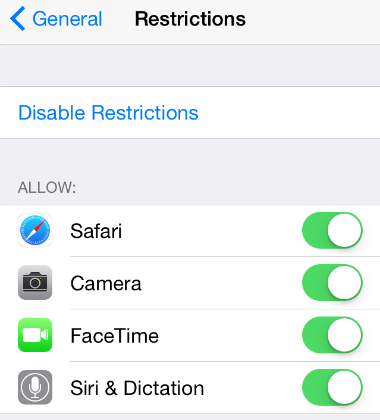 Navigate to Settings > General > Restrictions. Your device will ask you to pick a passcode the first time that you open the Restrictions panel. Enter a 4 digit passcode only you will remember and proceed to the Restirctions settings page. From here you will see a list sliders for stock apps such as Safari and FaceTime. Tapping any of these sliders will turn them to OFF / White and will remove that app's icon from your Home screen.
You can also remove the iTunes, iBooks and Podcasts apps from the Home screen, and block users from installing apps, deleting apps and making in-app purchases by turning off the individual sliders for each of these options.
Another way to control in-app purchases is by setting up a Family Sharing Plan on devices running iOS 8.x. A Family Sharing Plan allows one master device to approve all purchases made on any other devices linked to that account.
You can also restrict access to adult content and enable and disable features like Location Services in the Restrictions settings on any iOS device.