An untethered iOS 7 jailbreak is officially here, but its release is surrounded by a bit of mystery and controversy. It was previously reported that evasi0n 7 was released in haste in response to a report that someone close to the evad3rs had stolen the jailbreak and sold it to a private buyer. Soon after its release, Cydia app store creator Jay Freeman (@saurik) tweeted that he didn't have a chance to test Cydia on evasi0n 7, and he warned users to use it at their own risk.
A few hours after its release, complaints started popping up on Reddit that evasi0n 7 included the Chinese App Store Taig and a unofficial version of Cydia. This did not sit well with the jailbreaking community, which prompted the evad3rs to issue a written response to clear up the rumors. You can read the evad3rs full explanation of the events here.
UPDATE: Here's the latest tweet from @pod2g regarding the default TaiG installation in China.
"We have decided to remotely disable the default installation of TaiG in China for further investigations on the piracy issue."
Now that rumors are cleared up, here are instructions on how to jailbreak iOS 7 with evasi0n on Mac OS X. You can click here for Window jailbreak instructions.
Remember, even before the release of evasi0n 7 jailbreaking was always at your own risk! You should always backup your iOS device using iTunes and / or iCloud before attempting to jailbreak.
People who updated to iOS 7 using an over the air update could run into problems installing evasi0n 7. You should restore to iOS 7.0.4 using iTunes before proceeding, then restore your data using iCloud or iTunes. You will need iTunes 11.1 for this to work.
Evasi0n 7 will jailbreak any iOS device untethered running iOS 7.0 through 7.0.4.
1. After you have completed your backup, turn off the the passcode lock on your iPad or iOS device.
2. Download evasi0n 7 from the evad3rs' website by clicking the Mac OS X button.
3. Double-click the evasi0n 7 icon after opening the dmg file to mount the disk. If this does not work, right-click (or control-click) the icon and select Open from the menu instead.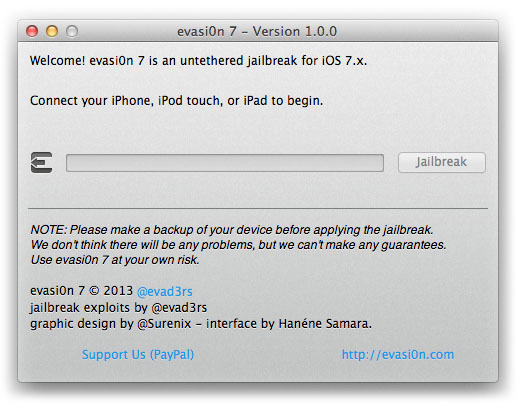 4. Connect your iOS 7.x device to the computer and click the Jailbreak button. Do not touch iTunes or iOS while the evasi0n 7 software is installing.
Evasi0n 7 should reboot your device a couple of times, and the entire process should only take a few minutes to be completed. You can restart the evasi0n software and reboot the iOS device if the installation gets stuck at any time.