The WSJ reported today that out of 47,000 grand larcenies in New York City last year 8,465 involved Apple products. Since iPhone theft is on the rise, the NYPD created a YouTube video teaching New Yorkers how to activate the Find My iPhone feature on their devices. This is also a good idea for any iOS owner in any part of the country. Here's how to enable Find My iPhone and Activation Lock on your iPad, iPhone or iPod touch.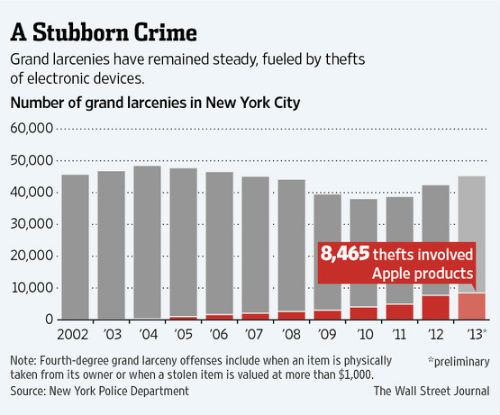 Apple added Activation Lock in iOS 7. The new feature allows you to wipe all the data on your iOS device after it is lost or stolen. You will need to know your Apple ID to wipe your data or recover it, in case your device is found. You can learn how to manage / reset your Apple ID here.
Enabling Activation Lock is the same as turning on Find My iPhone. Just navigate to Settings > Privacy > Location Services > Find My iPhone / iPad and turn the slider to green. You can also turn on the Status Bar Icon slider from this screen. This will display the Location Services icon when your device is being tracked.
How to wipe your iOS device:
1. Sign in to iCloud using your Apple ID.
2. Select the devie you want to wipe.
3. Click Erase device.
4. Enter your Apple ID again. You can also enter a message to display on the screen after the wipe is complete.
You can also use iCloud to restore your data if your device is ever recovered.