The 2014 Winter Olympics in Sochi, Russia are upon us today, in fact, the Opening Ceremonies have already begun (they kicked off at 11:00 EST), though NBC will delay their broadcast until 7:30 EST this evening. This delayed broadcast will be standard throughout the Olympics for the big events; very little will be televised live, and some events may not be broadcast at all, so you might be disappointed if you'd rather watch ice dancing than the Super-G. If you have a cable/dish provider and NBC's Sports Live Extra app, you'll be able to watch every event live.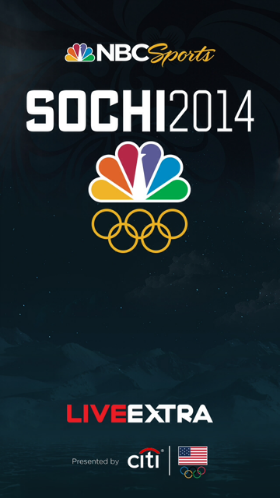 With NBC Sports Live Extra, you will need to authenticate with your cable provider to be able to watch the live streams. All of the major providers are available along with hundreds of others, so this shouldn't present a problem for most. If you don't have a subscription you can still get a 30 minute temporary pass,
and then a five minute pass for each day.
Once you are in, you will have access to live streams of all 15 sports, including Alpine Skiing, Biathlon, Snowboarding, Figure Skating, Luge, Bobsleigh, Skeleton, Nordic Combined, Speed Skating, Short Track, Ski Jump, Ice Hockey, Cross-Country and Freestyle Skiing and, of course, Curling. There are 89 medal events across these sports, and you'll be able to see each one live, plus the medal awards. If you can't watch live, the Sports Live Extra app also provides "exclusive event rewinds and short-form on-demand highlights."
Aside from the Olympics, NBC Sports Live Extra also offers any sporting event shown on NBC, NBCSN and the Golf Channel, which includes NHL regular season and Stanley Cup playoffs, the PGA Tour and U.S. Open (golf), the French Open (tennis), IndyCar, Premier League Soccer and Major League Soccer, Triple Crown horse racing and Formula One among others.
NBC Sports Live Extra is a free download in the App Store. It is designed for the iPad and iPhone and iPod Touch, and requires iOS 6 or better.