We learned from Apple's (NASDAQ: AAPL) Q2 earnings report last week that iPad sales had slipped 16 percent from the year ago quarter, with a disappointing 16.35 million sales. According to market research firm IDC (International Data Corporation), the drop off in tablet sales affected the industry as a whole and will likely continue over the upcoming year.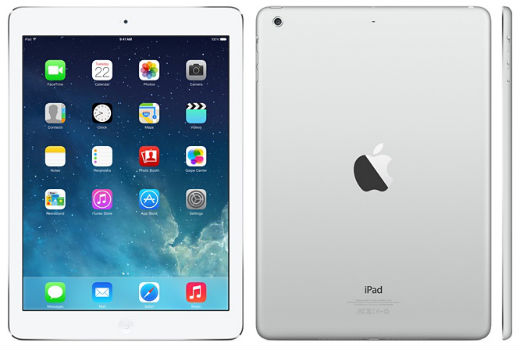 IDC's analysis (which covers 1Q13 through 1Q14) shows an industry total of 50.4 million sales for Q1 FY 2014, which represents a 35.7% decline from the holiday quarter and just a 3.9% year-over-year growth. The decline in sales was apparent across the board, irrespective of operating system or display size, which "likely points to an even more challenging year ahead for the category." Apple still led the pack in 1Q14, with 16.4 million iPad sales, though this represents a 16.1% decline year-over-year and caused
the company's market share to drop from 33.2% to 32.5%. Rival Samsung, even though it sold five million fewer tablets, grew a considerable 32% year-over-year and saw its market share increase from 17.2% to 22.3%.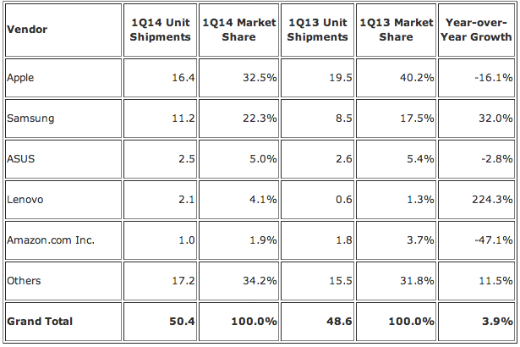 According to IDC Program Vice President, Devices and Displays, Tom Mainelli, "The rise of large-screen phones and consumers who are holding on to their existing tablets for ever longer periods of time were both contributing factors to a weaker-than-anticipated quarter for tablets and 2-in-1s." If this is true, Apple's anticipated launch of two large display iPhone 6 models could further weaken tablet sales. He also noted that although commercial tablet sales have increased, it hasn't been enough to counter lagging consumer sales.
Despite the gloomy outlook, Apple CEO Tim Cook pointed out a silver lining: two thirds of iPad registrations in the past six months were from new Apple customers. Apple is also expected to launch the iPad Air 2 and iPad Pro in the upcoming year, which should boost sales.