If Apple's iPad mini with Retina display is on your holiday shopping list you better buy it right now. The 7.9-inch tablet is heavily back-ordered and shipping times could grow longer as the holidays get closer. As of right now most Apple stores are not offering the cellular model for in-store pickup, and individual carriers like AT&T and T-Mobile are quoting up to 6-8 week delivery times.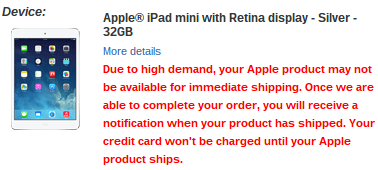 Verizon has also pushed its iPad mini shipping date back from November 25 to December 2, and Apple's online store is estimating cellular versions will ship in 5-10 business days from all five major US cellular providers. Meanwhile the Wi-Fi only models are more readily available.
Apple is showing 1-3 days for the 16GB and 32GB Wi-Fi models, and 5-10 for the 32GB and 128GB versions. The Wi-Fi models are also showing up in stock at retailers like Walmart. However, these shipping times may not last once the holiday shopping season swings into full gear after Black Friday.
It is well known that Retina displays for the new iPad mini are in short supply, and shortages have been expected. Even Apple CEO Tim Cook said it was "unclear" if there will be enough units to meet demand this year. So if you're planning on nabbing an iPad mini before 2014, be smart, and don't wait until it's too late.