As expected, Apple's latest iOS 7.1 beta, which was seeded to developers earlier today, patches more exploits used by evasi0n7. The creator of the iOS 6.1.3 p0sixspwn jailbreak, iH8sn0w, tweeted that Apple has fixed the 'chown' vulnerability used by the evad3rs to jailbreak iOS 7. If he is correct, jailbreakers will want to avoid iOS 7.1 when it is publicly released.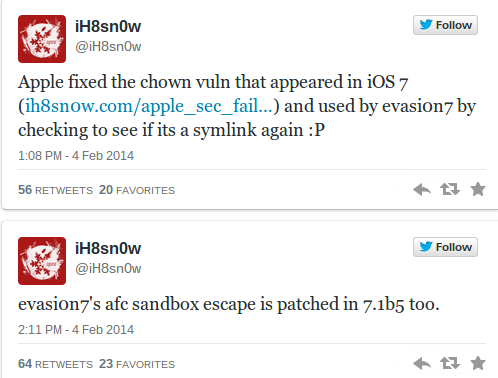 The team behind evasi0n7 hasn't confirmed that iOS 7.1 kills their jailbreak, but they rarely comment on Apple betas. Jailbreakers may still want to take precaution and make sure they're updated to the latest version of iOS 7.0. This is also the time to jailbreak, if you haven't already done so.
Evasi0n7 was released on December 21st. It jailbreaks all iOS devices running iOS 7.0 through 7.3. There have been a plethora of new iOS 7-themed tweaks and themes released to Cydia like Virtual Home, which transforms the iPhone 5s Touch ID into a virtual Home button.
You can learn how to jailbreak your iOS 7 device here.