A lot of new iOS features were introduced to us on Monday during the keynote presentation at Apple's annual Worldwide Developers Conference (WWDC 2014); among them was the ability to customize the Notification Center in iOS 8 by adding widgets.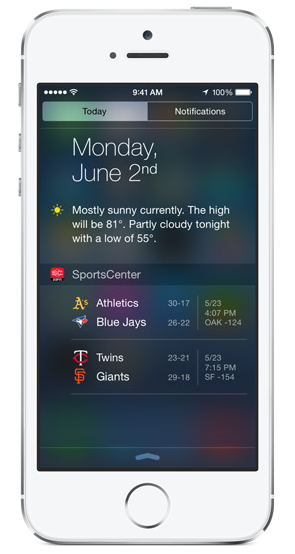 The ability to add widgets to the Notification Center was demonstrated by Craig Federighi during the keynote. He downloaded the ESPN Sports Center app, then pulled down his Notification Center. Under the "Today" view we saw the default widgets:
Today Summary
Reminders
Calendar
Stocks
Tomorrow Summary
(According to AppleInsider, the iOS 8 Beta includes "Traffic Conditions" as a default under Today Summary). He then scrolled to the bottom where there was a notification: "New Widget Available." Clicking on that allowed him to add the Sports Center widget to his collection. There is also an "Edit" button that allows you to remove widgets and change the order.
He went on to demonstrate interactive widgets on the iPad. He had an eBay widget in his Notification Center and saw he was being outbid on a Les Paul guitar. He was able to place a new bid on the guitar from within the notification center via the interactive eBay widget.
Developers will be able to create widgets for their apps, and users will be able to add them to their Notification Center once they have downloaded the app. In that manner, you will be able to create your own custom Notification Center with all the information you want, minus that which you don't.
iOS 8 will be released this fall, probably in the latter half of September with the launch of the iPhone 6. Along with the new iPhone, iOS 8 will be compatible with the iPhone 4s, 5, 5c, 5s, iPod Touch 5th generation, iPad 2, iPad with Retina display, iPad Air, iPad mini, iPad mini with Retina display and, of course, the new iPad Air 2 which will likely debut at the end of the year.