Finally, a simulation game where you don't have to wait 24 hours to perform one task!
Doctor Life from Wigu Games Studio challenges you to transform a failing medical clinic into a multistory hospital by building your reputation as a doctor. The game looks a lot like Tiny Tower, but instead of waiting around and doing nothing, you must diagnose and treat patients to earn enough money so you can expand your building and keep your clinic stocked with medical supplies.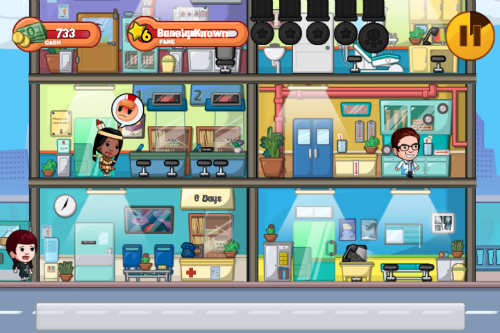 Doctor Life doesn't screw around. It immediately throws you into the fire and forces you to quickly learn the symptoms and treatments for many diseases and medical problems. The controls are simple to learn, but the game requires a lot of concentration, speed, and memorizing to master. Here's how it works...
Before you start your day and open your clinic you must stock it with the right medicine and equipment to treat your many patients. This is important because if you do not have enough of the right tools, you will be forced to refer a patient to another doctor. This is not a good thing since you're trying to earn enough experience to increase your "fame" and earn enough money to add more departments to your practice. You will also be assigned "quests" and will be able to buy additions for your clinic before each day begins.
The individual days of Doctor Life do not start off slow like most games of this nature. Your clinic will immediately be filled with sick people for you to treat as soon as you open your doors. You must quickly tap the bubble above each patient's head to receive a list of symptoms and a list of possible causes. Once you have identified the correct illness you must administer the correct treatment. You will wind up loosing a patient anytime you select the wrong illness or treatment.
This may sound simple, but it is actually really challenging. For example, a lot of the illnesses share the same symptoms and they all start to look the same while you're rushing around trying to treat multiple patients. You also have to be quick so your customers don't get impatient and leave, and it is impossible to see every person before your clinic closes for the night.
The best part about Doctor Life is that is requires no in-app purchases. You simply unlock new medical supplies, illnesses and rooms as you play the game and earn more fame. The game can also be played by anyone no matter their level of skill. It is challenging enough to keep the most advanced gamers occupied, and easy enough for casual gamers to enjoy.
Doctor Life is available for $2.99 on the App Store. It is compatible with all devices running iOS 6.0 or later, except for the fourth-generation iPod. The developer also recommends it be played on the iPad for the "best visual experience," but I have tested it on the iPhone 4s and it looks and works fine!