After weeks of hints, rumors and even an early leak, JailbreakMe 3.0 is finally here! The new jailbreak works on any iOS 4.3.3 device, including the iPad 2! It's available for free at Jailbreakme.com thanks to Comex , Grant Paul (aka chpwn), and Jay Freeman (aka saurik).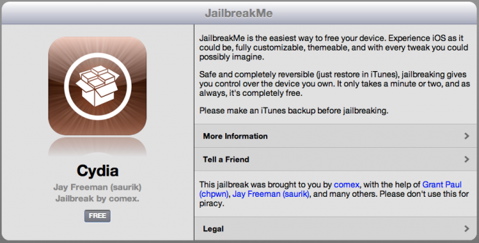 To jailbreak your iPad, iPhone or iPod touch log onto Jailbreakme.com with your device's browser, and follow the directions. Remember to make an iTunes backup before logging on, and jailbreak at your own risk.
After weeks of promising a new jailbreak, a buggy version of Comex's JailbreakMe 3.0 was leaked online, forcing him to move-up his release date. On Monday, a leaked e-mail from Comex confirmed that the new jailbreak would be released sometime this week. You can read the entire JailbreakMe 3.0 story here, but who seriously cares now that it's finally released!
Jailbreaking removes restrictions placed on your iOS devices and allows you to run applications, extensions and themes not approved by Apple. It's legal, reversible and you can still purchase apps from the App Store.