Apple may not officially be at CES 2011, but a model of the next generation iPad made an appearance anyway. iPad case manufacturer Dexim featured the aluminum iPad 2 mock-up as it was showing off iPad 2 cases.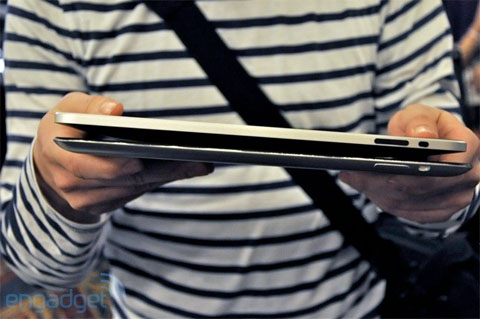 Although the exact dimensions of the iPad 2 can't be verified, the mock-up appeared to match several recent leaks and photos of iPad 2 cases. Apple's next generation tablet is widely expected to feature a flat back, beveled sides like the iPod touch, and a thinner profile.
The folks at Engadget even tried to put their iPad into the iPad 2 case and it wouldn't fit. Consistent with other iPad 2 case designs, the Dexim model has holes for front and rear facing cameras, and a large cutout where the current iPad speaker is placed. Speculation about the cutout has centered around a possible USB port or SD card slot, but some reports indicate the hole could just be for an improved speaker.
Other photos have given us more clues as to the iPad 2 form factor and analysts expect that Apple could accelerate its release schedule to solidify its lead in the tablet market. The iPad 2 will feature FaceTime video calling and could come in different models for each carrier, including AT&T Mobility and Verizon Wireless.
Even if the mock-up featured at CES 2011 is a little bit off from the real thing, chances are the next generation iPad will be similar. Leaked information and case photos are coalescing around an iPad 2 design much like this one. We can expect Apple to announce the new hardware design in weeks, not months.