A long list of souped-up features could be on its way to the next generation iPad. Analysts are now expecting the device to be released between March and April 2011 with a bevy of new hardware and improvements. Top on the list are a slimmer profile and lighter weight. One way Apple may be considering dramatically reducing the weight in an iPad 2: a carbon fiber body.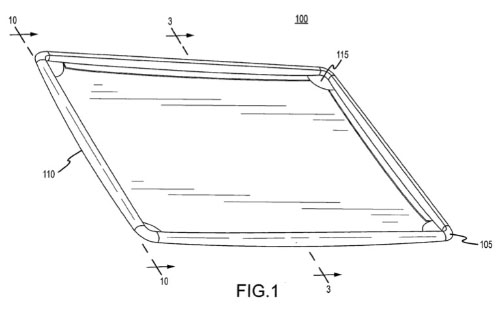 A patent has been revealed that shows Apple's take on a carbon fiber (CFRP) tablet construction. This would not only dramatically reduce weight, but by replacing aluminum in the current model it could improve Wi-Fi and 3G reception. Currently, plastic windows in the metal back making up the Apple logo and at the top of the iPad 3G are required for antennas.
Should Apple be saving a radical switch in materials for a later model, other reports have indicated that the company could shave width off of the iPad 2 by changing its manufacturing process with aluminum. A unibody construction from one piece of metal would duplicate the company's existing MacBook process.
The slimmer profile would also pack new hardware. In a conference call, Apple CEO Steve Jobs reiterated that rumors of a smaller screen size in future iPads are bunk. What else could fit inside a thinner, lighter iPad 2? A front-facing camera for sure. FaceTime is spreading like wildfire across iOS devices and Apple isn't about to keep it off the next generation iPad. Other reports have said a back-facing camera could also be added to the device.
Apple must keep the iPad competitive as more tablet computers such as the Samsung Galaxy Tab are hitting the market. Another way to spread the iPad to more wireless carriers is to install hybrid modems that support different networks. Reports have even called the iPad 2 the World iPad, meaning it would sport a Qualcomm dual-mode chip that works on GSM and CDMA networks. Can you say, Verizon Wireless? There's even speculation that Apple could offer an LTE compatible model to take advantage of the fast, fledgling technology that Verizon is currently deploying across the US. AT&T has also started work on adding LTE to their network.
Over 7.5 million iPads have been sold to date, and Apple is expected to manufacture up to 48 million units in 2011. Look out for Apple to make a next-generation iPad announcement as early as January of next year.