Three listings in Best Buy's online and internal store databases were discovered showing new iPad model SKUs and pricing for unknown products that are coming soon. The listings pictured below have since been removed from both the internal database and the Best Buy website.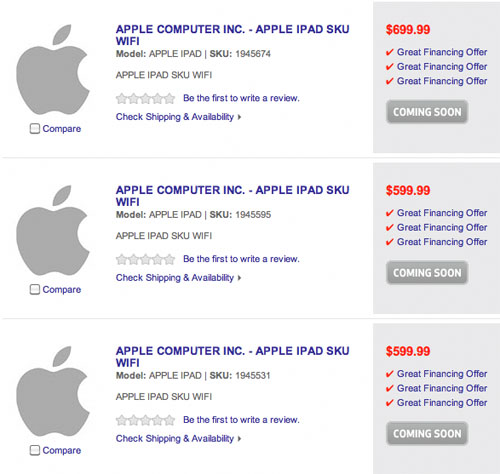 Pricing and SKU numbers don't match up with current iPad models in the store. For example, the $699.99 64GB iPad has an SKU number of 9811424, while one mystery "unreleased product" with the same price is identified as SKU 1945674. All three of the new SKUs are labeled APPLE IPAD SKU WIFI.
There are several possibilities as to what the numbers mean. For one, the entire thing could be an error and have nothing to do with future iPad offerings whatsoever. One alternative is that Best Buy is preparing for the iPad 2 launch, as they were partnering with Apple to offer the original iPad in 2010.
Others have speculated that Best Buy is preparing to sell the Verizon iPad/MiFi bundle, or an original iPad Wi-Fi + 3G that would work on the Verizon network, similar to the current model that is tied to AT&T. Whatever the case, pricing at $499.99 is nowhere to be found, which could mean that getting your hands on a future iPad at Best Buy will become more costly.
Recently leaked iPad 2 hardware details are pointing to a next-generation tablet that will have double the screen resolution, two cameras, and feature an updated processor. The next iPad is expected to have a slimmer form factor and an SD card slot for external storage. Look for the second generation iPad release date no later than April this year.