The iPad 2 will officially be the first tablet computer in space, as two units have already been stowed in the Progress 45 cargo craft along with three tons of food, water, oxygen, gear and fuel. Progress 45 sits atop a Soyuz booster at Baikonur Cosmodrome in Kazakhstan, awaiting launch early Sunday morning. Astronauts at the International Space Station (ISS) will have the option of using the iPad 2 devices for entertainment when off duty.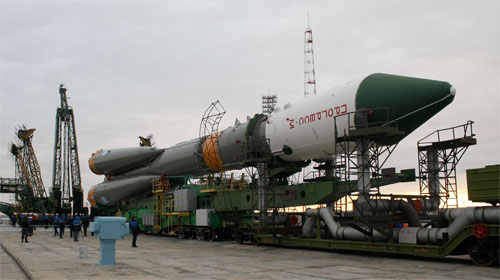 Additional tablets will likely join the iPads in space next year, as NASA is still evaluating different models. The ISS already has two iPhone 4 units and several iPods on board, the latter was first introduced in 2005 for music listening in space. The Progress 45 mission is unmanned, however in November a three-man crew is set to travel to ISS on a Soyuz TMA-22.
Cosmonaut Anton Shkaplerov's daughter chose a red Angry Birds doll for him to take into space on his trip to the ISS. The crew will hang the doll with string before launch, and 10 minutes into the trip when the Angry Bird starts floating they will know they've entered the weightlessness of space. This continues a tradition by cosmonauts and astronauts of using simple items and charms to mark zero gravity.
Two older laptops are also on board the ISS, however the addition of the iPad 2 units brings the space station up to date. There's no word on whether or not the iPad 2 tablets are being sent to ISS with the Angry Birds game installed. You can watch the launch of Progress 45 or get ISS updates and other space news using the free NASA iPhone app.