9to5mac reports that a next generation iPad 2 LCD screen has surfaced revealing an updated design with a slimmer profile. The replacement part is marked DVT, which means Design Verification Test, meaning the screen is just one step away from production.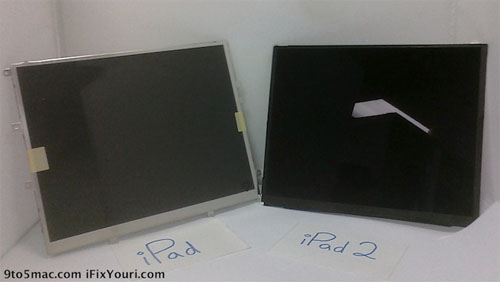 When compared to an existing original iPad screen, the new model from China is higher quality, with a narrower frame. Although the iPad 2 screen is the same height and width, this new model is one millimeter thinner and weighs less.
This matches information leaked so far from case manufacturers pointing to a slimmer form factor on the iPad 2. Mock up designs have popped up in several venues and indicate that Apple plans to give the iPad 2 a flat back and bevel the edges much like the latest iPods.
9to5mac did not power up the display to determine whether or not it has a higher resolution than the original iPad screen. It would seem that Apple is waiting until the iPad 3 to improve screen resolution and will ship the next model with 1024 x 768 pixels. The model number on the new screen part is LP097X02-SLN1, which according to one 9to5mac reader verifies the iPad 2 screen is an LG Phillips 9.7 inch XGA 1024 x 768 H-IPS display. Indeed, a Google search of LP097X02 will discourage those who were hoping for increased resolution on the next iPad.
Of course, all of this is assuming that the screen part is real. For more information, check out additional photos comparing the old and new screens at 9to5mac.