More information has surfaced surrounding a built-in SD card slot on the upcoming iPad 2. According to an AppleInsider report, the rumors of an SD card are unfounded. Photos of pre-release cases have been floating around for some time now, and various interpretations have been made of each case design.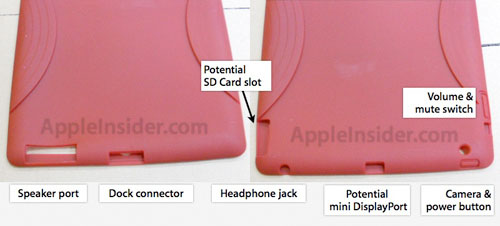 Pictured here is the a breakdown, indicating the slot that was previously thought to be an SD card slot. This space is more likely to be a relocated SIM card slot. Apple's move to offer SD card slots on recent model MacBook Pros helped to fuel the rumor. Sources tell AppleInsider this will not be the case on the iPad 2.
The SIM card relocation could point to a redesigned logic board, which could leave room for a larger battery or just cut down on power consumption. Some other leaked case designs don't have this mysterious slot, which would lend support to the SIM card idea. Even cases distributed for the original iPad don't always allow for SIM card access, as the card rarely needs to be removed from the device.
Industry observers expect the iPad 2 to launch within months with a bevy of new features. Dual iPad 2 cameras will allow for FaceTime video chat, and improvements to the iPad 2 processor and screen are also widely expected. Apple should announce the next generation within weeks and ship the product this spring, as suppliers have already produced pilot runs of the iPad 2.