From the iPhone 5 being announced, to a second iPad being released in 2011, it seems like the Worldwide Developers Conference, which kicks off this Monday, has the rumor mill churning. Here is the latest: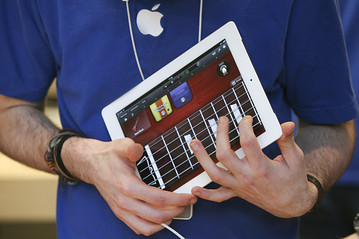 Today the Asian research firm CLSA put visions of iPad 3s dancing in Apple fanboys and fangirls' heads.
"While most vendors appear fixated on matching the specs and features of iPad 2, our checks suggest Apple will release iPad 3 in time for the holiday season, sporting a better display and LTE capabilities."
But will Apple really release a second iPad in 2011? Especially when they're having trouble keeping the iPad 2 in stock? Daring Fireball's John Gruber predicted they would in February, and Techland claims he "tends to be accurate with Apple predictions and has solid sources within the company." However, DigiTimes said in April that an iPad 3 being released this year may be "wishful thinking and misreporting."
"Sources from touch panel makers pointed out that Apple recently released its latest tablet PC plan and is asking the panel makers to provide products that are capable to support higher image quality than the current iPad 2 and Apple may even choose AMOLED panel or panel that support Full HD standard to accomplish the plan. However, since the project is still at the initial planning stage, the actual products are unlikely to appear in 2011."
Other reports suggest that the rumored device may be an updated version of the iPad 2, which Gruber also predicted.
"How could Apple release a third-generation iPad just six months or so after the second one? Maybe it won't be an actual next generation model. Maybe it's more like an iPad 2.5, or iPad 2 Pro — a new higher-end model that sits atop the iPad product family, not a replacement for the iPad 2 models."
So will Santa be coming down the chimney with an iPad 3 this year? No one really knows, but hopefully we will learn a little bit more at the WWDC this upcoming Monday.