One of the new features of the iPad 3 is the ability to utilize high-speed LTE networks and share the connection with up to 5 other devices. As of today it doesn't look like AT&T will be ready to support the iPad's hotspot feature before its March 16 launch. However, Verizon will offer free hotspot support for the 4G models.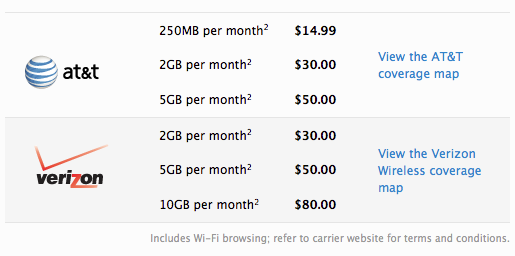 When pre-ordering the new iPad you must choose what carrier you would like to use. The model you select is configured to work with either Verizon or AT&T, not both! So you'll have to decide which carrier's 4G LTE network you prefer. You do not need to activate your service right away, and you can choose a monthly data plan at a later date when you need it.
If you have already pre-ordered your new iPad then you have already seen AT&T and Verizon's 4G data plans. If you have not pre-ordered here is what they're offering:
AT&T
250MB per month - $14.99
3GB per month - $30
5GB per month - $50
Verizon
1GB per month - $20
2GB per month - $30
5GB per month - $50
10GB per month - $80
All four Verizon plans will include free hotspot support. It's unknown when AT&T will offer the same service. If you are planning on using the iPad's internet sharing capabilities right away you will want to choose Verizon.