An iPad 3 announcement is still weeks away, but there's no shortage of information on the next generation iOS device. The latest leaks from BGR confirm some important specifications we can expect to see in the iPad 3 hardware.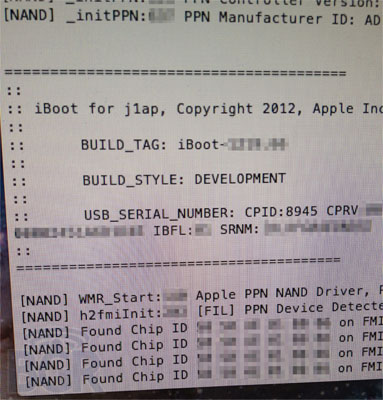 Screenshots have leaked to BGR of iBoot allegedly running on a prototype iPad 3. Thanks to this debug software, confirmation of several reports from the supply chain appear to be verified on the new hardware itself.
Key to the information revealed by the leak is the fact that Apple plans to release two different models of the iPad 3, one of which will support LTE. In fact, the iPad 3 will support GSM, CDMA and LTE networks all in one global model. Like existing iPads, the other model will be Wi-Fi only.
LTE will bring much faster download speeds to the iPad, and AT&T and Verizon are both currently rolling out the technology.
The other big news is confirmation of a quad-core Apple A6 processor. The successor to the A4 and A5 will carry the model number S5L8945X. This means the iPad 3 will be faster across the board when it comes to running iOS and any number of applications.
It's possible Apple has increased the battery size to extend life since a quad-core processor is bound to consume more power. Previous reports of iPad 3 case leaks have indicated a slightly thicker profile on the next generation tablet. Of course, like all rumors and leaked specs, we'll have to wait and see if the information provided to BGR comes to fruition. Apple has been known to change prototype devices at the last moment before mass production.