If reports originating from parts suppliers are to be believed, Apple has already received one million 2048 x 1536 displays for the next generation iPad. LG Display, Samsung and Sharp are said to be working on an order of two million more display units for delivery this month.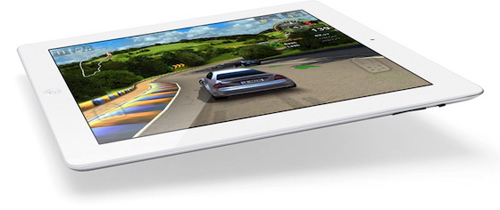 The iPad 3 Retina display doubles display resolution in each direction on the 9.7-inch touch screen to 264 pixels per inch (ppi). Although the iPhone 4 Retina display comes in at 326 ppi, the smartphone is normally held closer to the eyes, requiring more resolution to eliminate the appearance of pixels. With four times the number of individual pixels the iPad 3 display will require more processing and battery power, possibly leading to a slightly thicker iPad 3.
Despite reports that suppliers were having manufacturing issues that could delay the iPad 3 Retina display, the latest information from DigiTimes points to Foxconn starting the iPad 3 assembly process beginning in January. This would line up Apple's next tablet for release as early as March 2012. This keeps the iPad on an annual product refresh cycle, despite the iPhone's typical summer refresh schedule changing this year.
In related moves, Apple has reduced its orders for iPad 2 displays in the fourth quarter of 2011. The company already has 15-16 million screens ready for assembly in the fourth quarter of 2011. Analysts have pointed out that Apple's production targets for the iPad 2 are a few million less than this number of display parts. It's possible that the difference is accounted for by iPad 3 displays that have already been ordered and shipped.
The latest reports make no mention of whether or not the iPad 3 Retina display features dual OLED backlights, or how a higher resolution screen might affect pricing on the next generation tablet.