News of Apple's move towards IGZO (indium gallium zinc oxide) technology in the iPhone 5 display is not new, however reports have surfaced that show Apple could be using IGZO in the next generation iPad. The current iPad uses an IPS (in-plane switching) display, which provides a large viewing angle.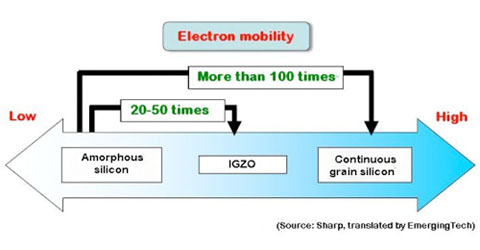 As seen in the diagram above from Semiconductor Portal, one advantage of an IGZO display is improved electron mobility. This means display pixels can be smaller (higher resolution) and more light passes through the IGZO display from the backlight. This reduces the brightness level needed from the backlight and saves power.
Sharp is a pioneer in IGZO technology and according to Jefferies analyst Peter Misek, the company has partnered with Apple to create a high-resolution Retina IGZO screen for the iPad 3. This would make it possible for the next iPad to be thinner, consume less power, and have a noticeably improved image clarity. Not only this, but IGZO technology is expected to cost less in manufacturing than IPS displays.
Adding more clout to the Retina display rumors is a leaked image purporting to show the iPad 3 screen component. The display is the same size, however snippets of iOS code and supply chain leaks indicate the resolution will be quadrupled to 2048 x 1536. Differences can be seen in the brown connecting ribbon cables on the bottom display component.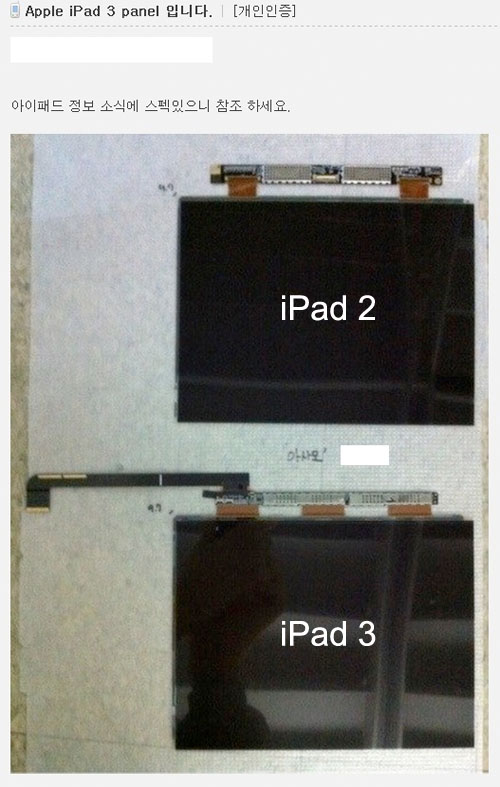 Since higher resolution on the iPad means more pixels, and therefore more data, there is an additional ribbon connecting to the iPad 3 display. The ribbons themselves are thicker as well. The photo was leaked onto a South Korean forum and has not been independently verified.
Should they move to IGZO screen technology, Apple would be pushing the limits of what's possible in the iPad 3. Higher resolution and less power consumption in a thinner profile, all without compromising image quality or brightness. Hopefully we'll see what the iPad 3 has to offer early in 2012.