Comex has released JailbreakMe 2.0, which jailbreaks iPads right through the Mobile Safari web browser on the device. No computer is required, and the procedure provides access to Cydia on the iPad home screen so that more applications and utilities can be installed.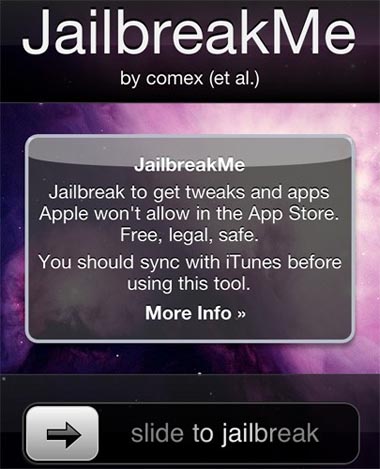 The jailbreak solution can be accessed on two different sites, by just visiting one of these two links directly on the iPad you wish to jailbreak. JailbreakMe 2.0 can be installed using jailbreakme.com or jailbreakme.modmyi.com. After a successful install, a message that Cydia has been added to your home screen appears and the process is complete.
The JailbreakMe web site was down part of today thanks to overwhelming traffic from iPad, iPhone, and iPod touch users looking to jailbreak their devices. The one-step solution vastly simplifies jailbreaking for the masses of iOS device owners.
Thanks to a ruling by the US government, jailbreaking is now legal even though Apple has fought to marginalize the practice. This is why jailbreaking still violates your warranty and terms of service on the iPad. Apple responded to the ruling with the following statement:
Apple's goal has always been to insure that our customers have a great experience with their iPhone and we know that jailbreaking can severely degrade the experience. As we've said before, the vast majority of customers do not jailbreak their iPhones as this can violate the warranty and can cause the iPhone to become unstable and not work reliably.
The Electronic Frontier Foundation spearheaded the petition to legalize jailbreaking under the DMCA. They announced in a press release that "When one jailbreaks a smartphone in order to make the operating system on that phone interoperable with an independently created application that has not been approved by the maker of the smartphone or the maker of its operating system, the modifications that are made purely for the purpose of such interoperability are fair uses."
Thanks to Comex and the iPhone Dev-Team now iPad owners can easily jailbreak their devices. Even though the process is relatively simple, early reports from users indicate there are problems with iPads running 3.2.1, so users with this iOS version on their iPads might want to hold off for more information from Comex before trying the procedure.
Waiting a few days to jailbreak your iPad might not be a bad idea, as traffic on the JailbreakMe web sites will slow down and the developers will have a chance to work out any bugs in JailbreakMe 2.0. Remember, jailbreak your iPad at your own risk!