Critics have already charged that the iPad 3G limited data plan won't get you very far with only 250 MB. We put this allegation to the test and kept a log of what activities took place on the iPad when connected to 3G. Checking data usage is simple under Settings, General, Usage so each time the iPad was used everything went into the diary.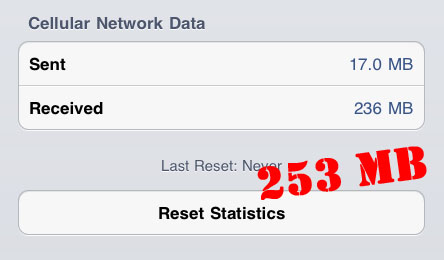 An iPad Wi-Fi + 3G model was activated with AT&T's unlimited data plan over a Wi-Fi network the morning of day one. Activation went smoothly and cost $29.99. In contrast, AT&T offers the 250 MB plan for $14.99. For the diary, most of the cellular data usage took place in the car, with the remaining balance spent whenever a Wi-Fi signal wasn't available.
3G Usage: Day 1
Used the Google Maps app to get directions and search for around 3 minutes
Watched Netflix streaming video for 4 minutes
Played three songs on Pandora
Watched 14 minutes of YouTube video
Browsed the web with Safari for a total of 35 minutes including a few forum posts
AOL instant messenger chat off and on for 75 minutes (including push notifications)
Total for day one: 86.5 MB
3G Usage: Day 2
Connected and used SSH for 20 minutes
Downloaded two app updates: ABC and Pandora
Watched 8 minutes of ABC video app (they added 3G support)
Checked the Weather Channel app twice
Browsed the web with Safari for 40 minutes
Watched a few more YouTube videos
Watched Netflix streaming video for 5 minutes
Total for day two: 105.5 MB
3G Usage: Day 3
Browsed the web with Safari for one hour including posting on forums
Read email, sent two photos
Used the Google Maps app to check traffic for 5 minutes
Checked a few live webcams of traffic using Safari
Total for day three: 61.0 MB
Three days. Grand total: 253 MB.
So how long does 250 MB last? Three days to burn through a 30-day data allotment.
Some of the activities described are on the data-heavy side, but the iPad is designed for multimedia. Especially on a long car trip, it would be difficult to limit your 3G usage to text-only applications. Browsing the web on the iPad means you're not limited to mobile-specific web sites. Full versions of web pages add up to more data received quickly.
It's hard to imagine getting by with 250 MB over 30 days. To limit your data plan expense it might be best to leave 3G off entirely. Resisting the allure of a full, unlimited 3G data plan on the iPad is difficult, if not impossible.