An alleged iPad 5 case showing off the device's rumored "iPad mini-like design" has popped up at the Hong Kong Electronics Fair. Engadget got an early look at the fifth-generation iPad accessory, which was modeled after a leaked mold of the device. The Engadget staff compared the case to older iPad cases, and discovered that the new iPad will be "slimmer and narrower," if the case's design is accurate.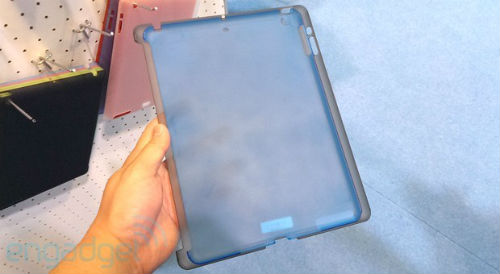 This is not the first time we have heard the iPad 5 will feature the same screen size as its predecessors, while sporting thinner left and right-side bezels like the iPad mini. In February, case manufacturer MiniSuit claimed to know the next-generation tablet's official specs, and built a similar case based on the leaked info. iLounge's Jeremy Horwitz also claimed to have seen a "physical model of the completely redesigned fifth-generation iPad", and said it resembled a "stretched iPad mini".
As for a released date, rumors of delays for both the iPad 5 and iPhone 5S have been running rampant. Apple is expected to be pushing the envelope when it comes to its next-generation hardware, and the leap may be causing delays.