The iPad 5 could be delayed as Apple works on improving the technology in its next generation tablet. A report from CNET points to a thinner display that will reduce the side profile and weight of the iPad 5. Switching to a film-based touch sensor and smaller LED backlights would also improve power efficiency.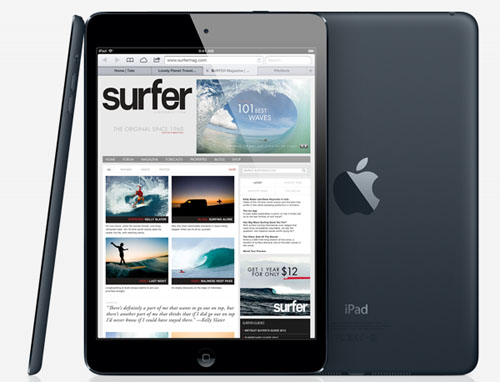 Apple is widely expected to duplicate the iPad mini design on the next full-sized 9.7-inch tablet, shrinking the bezel thickness on the device. Despite rumors, Sharp's IGZO display may not be included in the iPad 5. Any move to reduce the display component thickness could bring the next generation iPad back down to a size more comparable to the iPad 2.
CNET also cites analyst Ming-chi Kuo, who believes developing new hardware for the iPad 5 is already resulting in production delays. A spring or summer launch may not be in the cards for Apple, if Kuo is correct and Apple is pursuing a fingerprint-sensitive home button.
Integrating this technology on the iPad 5 would mean no more passcode entry. Simply pressing the home button would only unlock an iOS device for an authorized individual thanks to a fingerprint scan and specialized analysis software. This isn't the only new hardware issue Apple is tackling. A higher-density Retina display panel could also delay production of the iPad 5.
Apple has faced production issues in the past when pushing the envelope with hardware. The iPhone 5 aluminum exterior faced problems when units were damaged at the factory, and the white iPhone 4 was delayed due to issues with painting the glass. Good things come to those who wait, and if an improved display and fingerprint sensor come to the iPad 5 Apple fans will be happy.