There was never any doubt that Apple planned to announce the iPad Air 2 tomorrow, but there was some uncertainty about the future of the iPad mini, until now. Apple has prematurely uploaded the iOS 8.1 iPad user guide to iTunes with details about the second-generation iPad Air and third-generation iPad mini.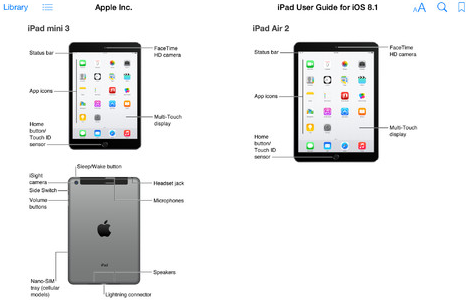 As you can see from the screenshot posted above, both the next-generation iPad Air and iPad mini will ship with Touch ID. The leak also shows that the iPad Air iSight camera will now feature Burst Mode, and that the new tablets will be named the "iPad Air 2" and "iPad mini 3," like we have always expected.
Besides confirming that tomorrows event is indeed about Apple's new iPad lineup, the slip-up also revealed that an iOS 8.1 release should be right around the corner. The new Apple OS could drop tomorrow, or on October 24th, which is the rumored iPad Air 2 release date.
Apple will officially announce the iPad Air 2 and iPad mini 3 on October 16, 2014. The event will be live streamed on Apple.com and Apple TV from Apple's Town Hall Auditorium in Cupertino, California at 10:00am Pacific / 1:00pm Eastern.