T-Mobile customers can now purchase an iPad Air 2 or iPad mini 3 at T-Mobile.com or at T-Mobile retail locations. All models are available, except the 128GB iPad Air 2, for zero dollars down with 24 monthly payments starting at $26.24 for the 16GB iPad Air 2 and $22.08 for the iPad mini 3. T-Mobile is also still offering its double your data deal. For just $10, the deal allows users to add one tablet and match the data on their Simple Choice voice plan.
Correction: The 64GB iPad Air 2 and iPad mini 3 is $100 down and the 128GB iPad mini 3 model is $199 down.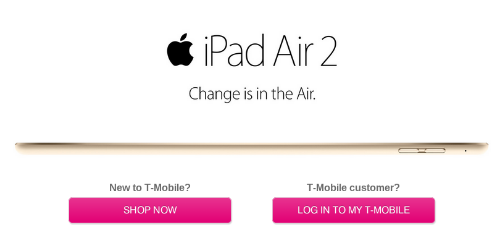 If you rather pay for your iPad upfront instead of making monthly payments, or want a Wi-Fi-only model, both the iPad Air 2 and iPad mini 3 are available through Apple.com starting at $499 and $399, respectively. The iPad Air 2 is also available at Bestbuy.com, AT&T.com and Verizonwireless.com.
Both the iPad Air 2 and iPad Air 3 ship with Touch ID and iOS 8.1 with Apple Pay support. The iPad Air 2 is powered by Apple's new A8 processor and it is equipped with an improved 8MP camera with Burst mode.