Walmart, Best Buy and Target have posted their Black Friday sales previews and all three retailers are offering different deals on Apple iPad models. Here's a look at all of the upcoming iPad sales this November.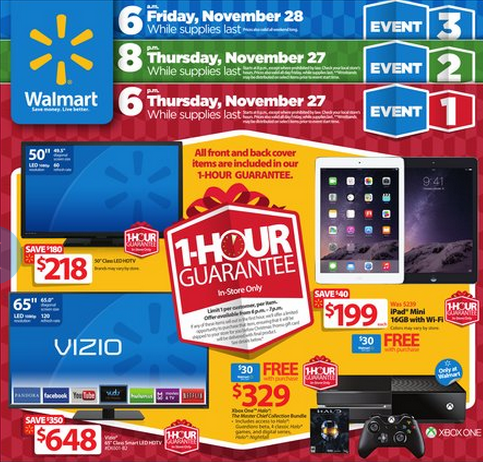 Walmart customers will receive a free $30 gift card when they purchase a 16GB iPad mini model for $199. The original iPad mini is normally $249. The 16GB iPad Air will also be available for $397, with a $100 Walmart gift card. These deals are being offered during different Walmart Black Friday "Events" at different times and days starting on November 27, 2014. You can visit Walmart.com to find the Black Friday event schedule for your local brick and mortar location.
Target is offering an $80 gift card with the purchase of an iPad mini, a $100 gift card with the purchase of an iPad mini 2, 3 or iPad Air and a $140 gift card with the purchase of an iPad Air 2. The iPad Air 2 starts at $499 for the 16GB WiFi-only model. You can view Target's Black Friday flyer here.
The iPad mini 3 will be $75 off and the iPad Air 2 will be discounted by $100 at Best Buy on Black Friday. You can view all of Best Buy's Black Friday deals here.
All three big box retailers are also offering deals on select iPhone models this Black Friday.
Here are the prices for each retailer and iPad model with the gift cards factored in:
Walmart:
16GB iPad mini (Wi-Fi) $169
16GB iPad Air (Wi-Fi) $297
Target:
16GB iPad mini (Wi-Fi) $169
16GB iPad mini 2 (Wi-Fi) $199
32GB iPad mini 2 (wi-Fi) $249
iPad mini 3 starting at $299
iPad Air starting at $299
iPad Air 2 starting at $359
Best Buy:
iPad mini 3 starting at $324
iPad Air 2 starting at $399