The long-awaited iOS 4.2 iPad update has been released at 10AM PST today. Apple launched the new firmware for all recent iOS devices, including the iPad, iPhone and iPod touch. Not only is this the first time that iOS runs the same version on the iPad and iPhone, it adds many features to the iPad that iPhone users have been enjoying for months.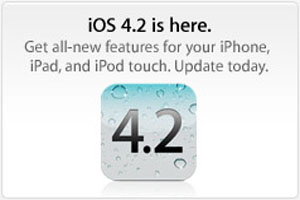 Two of the most useful changes include multitasking and folders. Not only can you listen to your Pandora radio station while doing other things, Apple's multitasking bar will quickly switch between suspended apps. Folders allow several apps to be stored in one icon and organized by category or name.
One surprise is that the Find My iPad service will be free for those updating to iOS 4.2. Before this update, Find My iPad required paying for a MobileMe subscription. Now if your iPad gets lost you can find it on a map using a web browser.
One major change coming to the iPad in iOS 4.2 has had mixed reviews. The orientation lock switch on the upper right of the iPad will be converted to a mute switch. Orientation lock controls will now be found next to a brightness slider and iPod controls on the multitasking dock. Accessing the multitasking dock itself will require a change to the home button action. Double-clicking the home button will no longer go to your first home screen, instead it will launch the multitasking dock.
AirPlay on the iPad will make it possible to stream live audio and video to supported devices, while AirPrint opens up direct wireless printing from the iPad. Game Center adds a social hub and live person-to-person gaming experience, where players can challenge each other or compete on leaderboards.
All of your email can be integrated into one unified inbox with the Mail app in iOS 4.2. Support for calendar invitations has also been added, making it easy to import events into the Calendar app. Safari now has a web page search function, and many other improvements and features have been added to the iPad.
When you're ready, sync, back up, and update your iPad using iTunes. The iOS 4.2 update is available now for free.