Apple's iPad and iPhone were the go to devices for Black Friday shoppers this year. More than three-fourths of all mobile traffic to online retailers during Thanksgiving and Black Friday was generated by Apple devices.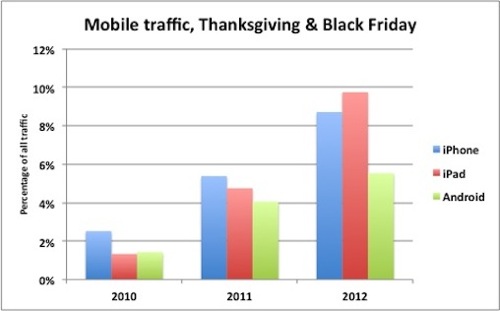 "The iPad dominated tablet traffic at 88.3 percent followed by the Barnes and Noble Nook at 3.1 percent, Amazon Kindle at 2.4 percent and the Samsung Galaxy at 1.8 percent", according to IBM's 2012 Black Friday Report.
The iPad helped Thanksgiving Day sales reach a 17.4 percent increase, and set the stage for 20.7 percent growth on Black Friday. Mobile purchases accounted for 24 percent on online sales, which was an increase of 69% from the 14.2% of 2011.