With WWDC 2014 set to kickoff in San Francisco this coming Monday morning, search based advertising firm, Chitika, announced that the iOS 7 adoption rate among iPad users is 84.8% and 89.7% among iPhone users.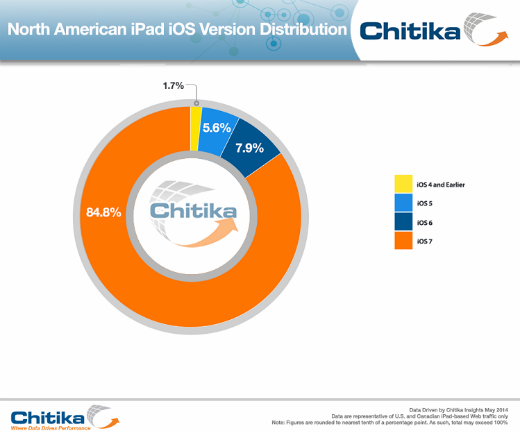 The report is based on Chitika's analysis of millions of U.S. and Canadian iOS users' online ad impressions between May 22 and May 28, 2014. The results were broken down between iPhone and iPad iOS 7 versions. Although the iPad's 84.8% is a bit lower than the iPhone's, it represents a 6.3% increase since Chitika performed a similar study in February. The iPhone's iOS 7 usage increased by 5.4 percentage points over the same period.
This time last year, just before Apple announced iOS 7 at WWDC 2013, Chitika reported that 82.9% of iPad owners were using iOS 6, compared to 92.7% of iPhone users. The report attributes the lower 2014 iPhone numbers to various issues with iOS 7 that may have led some users to stick with iOS 6. The higher numbers for the iPad are possibly due to iOS 7's compatibility with all iPad models (except the 2010 model).
WWDC 2014 begins with a keynote presentation slated for 10:00 AM PST, Monday June 2, and iOS 8 will likely make its debut at that point. Some features to expect include the Healthbook app, an integrated song identification feature and several iCloud apps. The highly anticipated split-screen multitasking for the iPad is not quite ready yet to be announced, however.