The iPad mini sounds like a knock off product or cheap imitation of the iPad, however according to supply chain mag DigiTimes displays for the rumored device have already been ordered. Apple has placed the 7.85-inch LCD panel orders with AU Optronics and LG Display.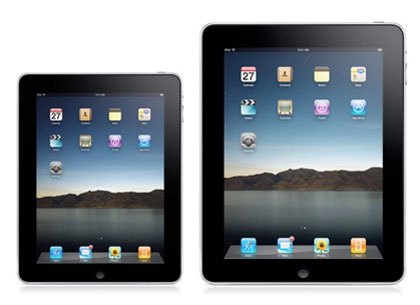 Forhouse, an affiliate of AU Optronics is said to be making matching backlight units for the smaller iPad screen. DigiTimes didn't stop there, with the report also explaining that the assembly contract for the iPad mini will go to Pegatron Technology, not Foxconn, the current producer of the iPad 2. The report follows several back and forth rumors over Apple's plans for a smaller tablet, or lack thereof.
Some analysts believe Apple has planned to shrink the iPad all along. Most of the rumors surrounding Apple's media event scheduled in just two days revolve around a higher-resolution full-size iPad. The iPad Pro / iPad HD / iPad 2S, or simply the iPad 3 could be available just days after the official reveal. The updated tablet is expected to be slightly thicker, have the voice assistant Siri installed, and quadruple the display resolution.
DigiTimes has a mixed track record when it comes to reporting Apple news. Earlier reports stated that Apple plans to ship two iPads in 2012. It's possible that after the iPad 3 release in March the company could release a smaller version of the iPad in October along with the next generation iPhone. The timing would certainly be optimal with the holiday shopping season right around the corner.
One thing is certain, iPad Mini rumors refuse to go away. Whether or not Apple plans to add a device that would fill the gap between the iPad and iPod touch remains to be seen. The move would certainly shake up the budget tablet market and threaten less expensive Android options that are currently available.