A model of the upcoming iPad mini has purportedly been photographed and leaked to Gotta Be Mobile. Photos show what the site claims to be an engineering sample, which is a scale model of the device used to improve production processes and test accessories designed for the tablet.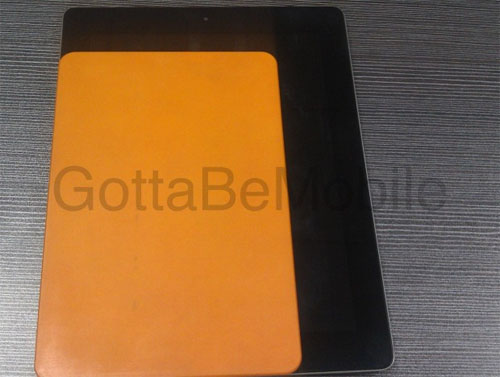 The photos of this plastic mold were delivered to the site by a "trusted source" within Apple's supply chain. According to current reports, production of the iPad mini is scheduled to begin at a Brazilian Foxconn plant in September. With a 7.85-inch display, this new iPad model will be approximately two-thirds the size of the Apple tablets seen to date.
With a 4:3 aspect ratio, this means the iPad mini provide significantly more display area than other so-called 7-inch tablets currently on the market. Details of the engineering model indicate the iPad mini will have a 19-pin dock connector, much smaller than the current 30-pin connector found on Apple's mobile products. Speaker grills have also been redesigned and appear on either side of the dock connector.
When it comes to thickness, the iPad mini sample appears to be much slimmer than current iPads, with a profile more akin to the iPod touch. Engineering models like the one pictured at Gotta Be Mobile can be used by third-party accessory manufacturers to develop items such as cases. Rumors of an iPad mini or iPad nano have been swirling since the first iPad was launched in 2010.