Almost all the iPad news you're likely to read this week and for the foreseeable future will be about the iPad 2. What's good, what's bad, what to get excited about and what to complain about. Meanwhile, the tablet computer that started the ever-growing tablet revolution is sitting quietly on the sidelines, more accessible than ever.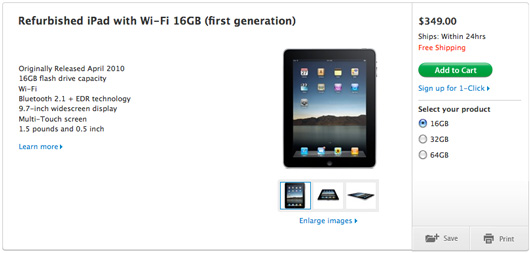 Don't misunderstand, the iPad 2 has a host of welcome additions and will most certainly continue Apple's dominance of the tablet PC market. That said, the original iPad didn't turn into a schlep overnight. The device that people were marveling about two weeks ago is, well, still marvelous. Now, with Apple's price slashes following the release of the iPad 2, it is more afforable than ever to get your hands on the iPad.
You can now purchase a 16GB WiFi-Only iPad directly from Apple for $349. That price is for a refurbished iPad and also includes Apple's recent price cuts. The same iPad would have run you $499 just a couple of weeks ago. Refurbished units look and perform like new, and come with the same warranty as a brand new iPad.
Not into the refurbished thing? No problem. Tack on an extra $50 and you can have a never-used iPad for $399. Identical discounts apply to the 32GB and 64GB models and to the WiFi + 3G models. Head to the online Apple store to browse the options and pricing.