Good thing this iPad comes with free shipping. An eBay listing for an original iPad prototype sold for a cool $10,200 after 23 bids. Aside from 16GB of storage, the unreleased device features two dock connectors.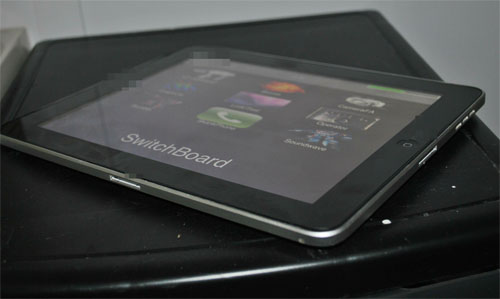 At one time, Apple was considering a dock connector for the landscape orientation as well as the mass-produced single connector seen today. Both of the dock connector ports are fully functional on this prototype.
The unit is running Apple's internal diagnostic software suite, called SwitchBoard, and has a beta version of iOS 3.2 installed. The iPad is fully functional except for the touch screen, which requires repair. The seller explains that one of the ribbons on the digitizer is missing, but pressure on the connector yields some response to touch. Apple removed the battery, however the eBay seller installed an OEM iPad battery.
The iPad prototype is an interesting item that proves Apple was testing the dual dock concept illustrated in patents and reported prior to the original iPad announcement. Interesting enough that someone dropped over $10k for the unit. Could it be that Apple has a team of eBayers looking out to buy back its lost prototypes?