Finally all the speculation and rumors about delays, release dates, and pre-order scenarios can be put to rest. Today, Apple announced release date information for the WiFi only iPad models as well as pre-order dates for both the WiFi and WiFi + 3G iPad models. Though the iPad is hitting shelves a week or so later than anticipated, the announcement puts to rest concerns about major delays and supply shortages that originated from analyst rumors circulated earlier this week.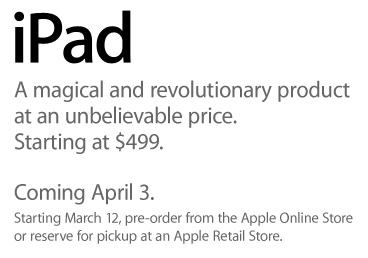 The WiFi only iPad models will be available to customers on
April 3rd, 2010, with WiFi + 3G models hitting stores in "late April." Despite the still vague release date for the 3G iPad, customers will be able to pre-order both the WiFi only or 3G-capable iPad models starting on March 12th.
The launch will include the release of the iBooks application, which will allow users to purchase books to read through the iTunes iBookstore. At launch, "iBooks" will be available from companies such as HarperCollins, Penguin Group, Macmillan Publishers, and Simon & Schuster.
Steve Jobs said today, "we're excited for customers to get their hands on this magical and revolutionary product and connect with their apps and content in a more intimate, intuitive and fun way than ever before."
The iPad will be released internationally in U.K., Canada, France, Germany, Australia, Italy, Japan, Spain and Switzerland in late April. International pricing information is still pending from Apple.
Head here for information on pre-ordering or purchasing the Apple iPad.
Head here for full details/specs on the Apple iPad.
Join our iPad discussions in our iPad forums.