External speakers for the iPad come in all shapes and sizes, including stationary docks that boost sound and improve audio quality. After all, the built-in iPad speaker can only do so much. The iMainGo XP takes the concept a bit further and integrates four high-quality speakers directly into an iPad case, for total portability.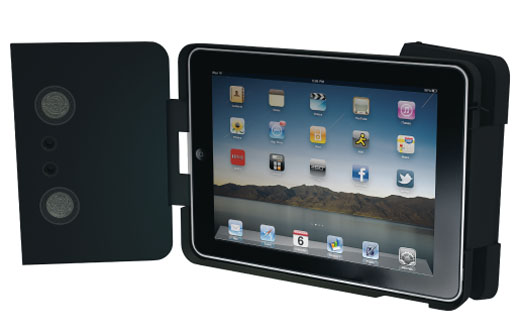 The case is self-powered, with 8 hours of battery power provided on a single charge. iMainGo XP not only protects the iPad or iPad 2, but it unfolds to reveal the speakers and tuned bass ports. Despite its full sound, the case is only 1.5 inches thick and will add just 2 pounds to the weight of your iPad.
Considering the vast improvement in sound and an easy-to-carry form factor, iMainGo XP fills an important niche in iPad accessories. When it comes to the speakers, there are four 38mm titanium coned neodymium high output speakers built in. Five watts per channel means the system totals 10 watts of output power. The system has a lithium-ion battery and comes with its own plug-in charger.
iMainGo XP features a digital music amplifier, dual headphone jacks for private listening, an auxiliary line out jack, and a 3.5mm gold-tipped stereo plug to connect to the iPad. The case is fully compatible with the iPad and iPad 2. iMainGo XP comes with an adjustable stand that can be used in conjunction with the case for stationary viewing or listening.
The iMainGo XP is currently available in black at Amazon for $118.59 with free shipping.