Great news is here for those interested in using an iPad on the Verizon network. Apple is producing iPads with components that will make it possible to use these devices directly on Verizon's cellular data network. In a clear sign that no exclusive iPad deal with AT&T exists, Verizon Communications CFO Francis Shammo told Bloomberg the Verizon iPad was coming soon.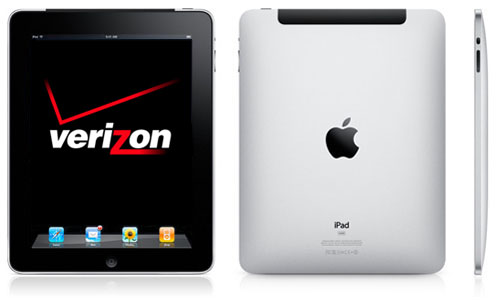 No timeframe or pricing was given, however the iPhone 4 is scheduled to arrive on Verizon's network as early as February 3. Also unclear is whether or not the Verizon iPad will use the company's current CDMA network or launch with LTE capability.
Apple could be waiting to launch the iPad 2 this spring with AT&T and Verizon models as opposed to rushing a Verizon-compatible iPad for earlier release. Verizon has yet to announce iPhone 4 data plans, although they currently offer the iPad with MiFi bundle at discounted data rates.
MiFi is separate hardware that makes a local hotspot and allows the Wi-Fi only iPad to connect to Verizon's cellular network. Verizon offers $20 for 1GB, $35 for 3GB and $50 for 5GB. An extra gigabyte over the limit costs an additional $10 (or $20 with the 1GB plan).
The Verizon bundle including a MiFi 2200 device goes for an additional $130, making iPad + MiFi pricing identical to AT&T iPad + 3G pricing: $630 for a 16GB iPad, $730 for 32GB and $830 for 64GB. When it comes to competition between AT&T and Verizon over Apple mobile devices, it seems iPhone 4 is just the beginning.