The jailbreak community lost an important player in August when the hacker known as Comex accepted an internship with Apple. When asked if he was the company's final solution to their jailbreaking problems, Comex replied that he didn't think it was possible to stop people from finding exploits. It looks like he was right.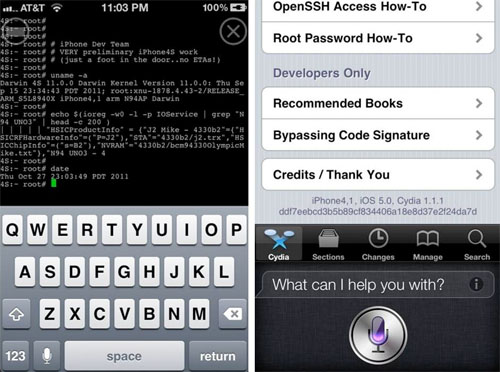 This weekend, iPhone developer MuscleNerd announced the iPhone Dev Team had successfully jailbroken the iPhone 4S and iPad 2. MuscleNerd released a screen shot of a jailbroken iPhone 4S running iOS 5, but tweeted, there are "huge missing pieces" to be dealt with before it can be released to the public.
The original iPad 2 and iPhone 4 jailbreaks were released about one month after their initial announcements. However, an early leak of JailbreakMe 3.0 forced Comex to release it sooner than he had anticipated.
Hopefully the iPhone Dev Team will find all the missing pieces before December. Apple fans deserve some good news after the iPhone 5 letdown.