It's no secret that a lot of adults now prefer the iPad as their number one bathroom pastime, but is it a good idea to teach toddlers to be dependent on technology when using the rest room? CTA Digital seems to think it's a great idea, and has set out to revolutionize potty training with the "iPotty".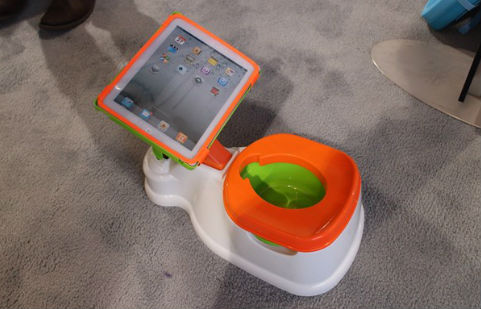 CTA unveiled the $40 toilet for toddlers at CES in Las Vegas this week. I originally thought it was a joke, but the iPotty keeps turning heads and making headlines. The potty is attached to an iPad stand, and features a plastic sheet and pee guard for boys. The iPotty also easily comes apart for convenient cleanup. Surprisingly there is no iPotty compatible app, but maybe one is in the works.
The iPotty is not listed on CTA Digital's website, and I can't find any official release date. I'm also sure this is not what Steve Jobs had in mind when he launched the original iPad in 2010.