If you're running iOS 4.x on your iPad, you already know the device can multitask. Now jailbreak app developer Aaron Ash is taking the concept to a new level and developing software to do what some iPad owners never thought was possible. His software runs multiple iPhone applications on the same iPad screen at the same time.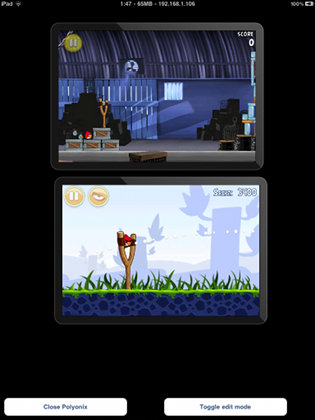 As the screenshot above shows, he was able to successfully play two games of Angry Birds at the same time. Three iPhone apps can run simultaneously, but the current version of his software crashes when four apps are opened. The app could eventually make its way into the Cydia jailbreak app store and is currently named Polyonix.
Although at first blush it may sound ridiculous, Polyonix could open up a whole new variety of uses on the iPad. For users who are on-the-go, imagine catching a baseball game live while checking email, or researching information on the web for the paper you're writing. No switching back and forth between apps with the multitasking dock and taking up the whole iPad screen. Edit mode makes it possible to start and stop apps and rearrange windows.
Ash has some work ahead of him before the app is ready for prime time. Specifically, he reports problems with audio and the accelerometer. Nevertheless, the application works and performance is acceptable, at least when two or three apps are running. The concept is really quite interesting and could be even better when an iPad 2 jailbreak becomes available, allowing Polyonix to take advantage of its more powerful processor.
Ash is known for his two popular Cydia tweaks, Multifl0w and Barrel. Hopefully he will have time to add to this list with Polyonix.