Back in August, T-Mobile CEO John Legere told AllThingsD that the carrier was looking forward to carrying a "whole array of Apple products" in the future. At the time most people thought Legere was just referring to the unreleased iPhone 5s and iPhone 5c, but some speculated that the CEO was also talking about the iPad, and it looks like those people were right.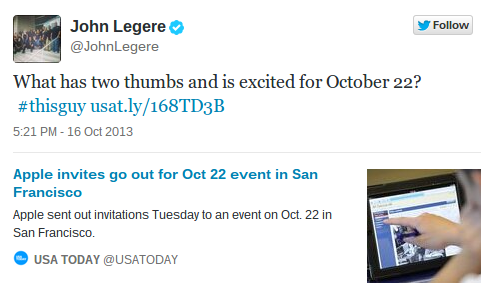 Legere recently tweeted a link to an article about Apple's upcoming iPad event being held on October 22. Apple is expected to announce the iPad 5 and iPad mini 2 at the Yerba Buena Center in San Francisco on Tuesday, and Legere's tweet seems to suggest that T-Mobile will carry the next-generation tablets.
T-Mobile was one of the last major carriers in the U.S. to partner with Apple. Since releasing the iPhone 5, the carrier has managed to shake up the mobile world with its "Uncarrier" plans and early upgrade program "Jump!"
It will be interesting to see what T-Mobile has up its sleeve for the iPad.